Introducing the Raspberry Pi 5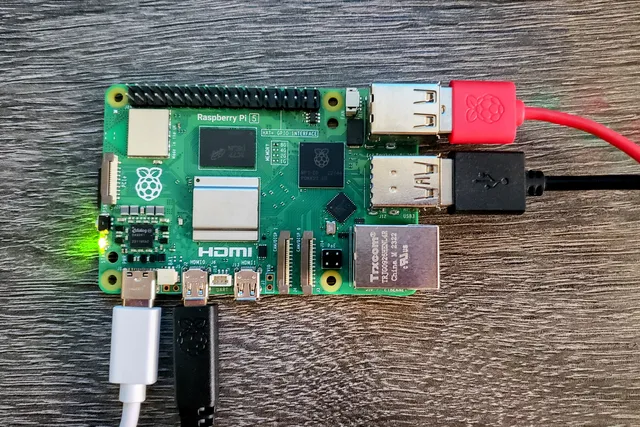 Introducing the Raspberry Pi 5: A New Era of Microcomputing
After a four-year hiatus since the release of the Raspberry Pi 4, the highly anticipated Raspberry Pi 5 has finally made its grand entrance, bringing with it a substantial performance boost and a groundbreaking addition of in-house silicon, including support for PCIe 2.0 connectivity.
Amid speculations that the Raspberry Pi 5 might not see the light of day this year, this new iteration of the microcomputer is now available, starting at an attractive $60 price point. Not only does it promise enhanced performance compared to its predecessor, but it also marks a significant milestone as the first Raspberry Pi to incorporate in-house silicon technology.
Driving the heart of the Raspberry Pi 5 is a potent 64-bit quad-core Arm Cortex-A76 processor, clocked at a formidable 2.4GHz. This processing powerhouse promises a two to threefold increase in performance compared to the aging Raspberry Pi 4. Furthermore, the device boasts an 800MHz VideoCore VII graphics chip, heralded by the Raspberry Pi Foundation for delivering a substantial upgrade in graphics performance.
One user had the privilege of testing the device firsthand, and while he couldn't delve deep into its capabilities, it left a strong first impression. Boot times were impressively quick, and webpages loaded with remarkable speed, especially when compared to his aging Raspberry Pi 3 Model B+. It's worth noting that the device can get warm during operation, but Raspberry Pi thoughtfully provided an active cooling component that can be directly mounted on the board to address this.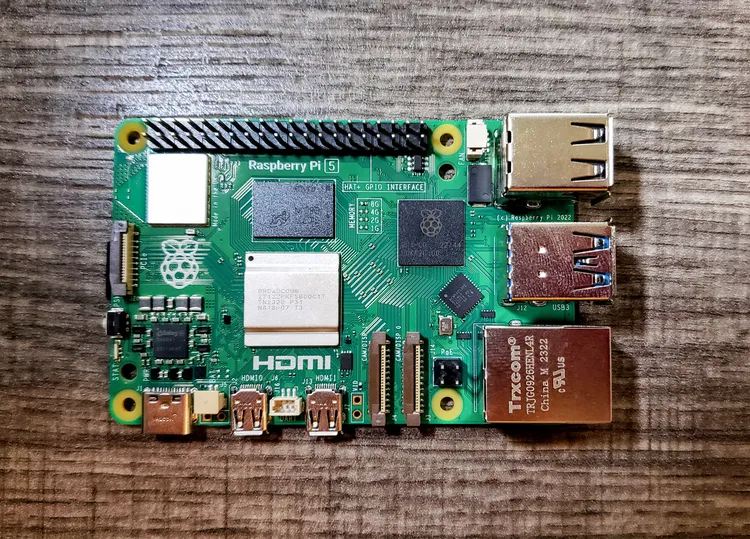 What truly sets the Raspberry Pi 5 apart is the inclusion of a component produced by the Raspberry Pi Foundation itself - the southbridge. This essential part of the chipset enhances the device's communication with peripherals, resulting in a significant improvement in peripheral performance and functionality, with faster transfer speeds to external UAS drives and other peripherals.
The Raspberry Pi 5 also introduces two four-lane 1.5Gbps MIPI transceivers, enabling users to connect up to two cameras or displays. Additionally, a groundbreaking feature is the single-lane PCI Express 2.0 interface, providing support for high-bandwidth peripherals. However, it's important to note that taking advantage of this feature will require a separate adapter, such as an M.2 HAT (Hardware Attached on Top).
In terms of connectivity, the Raspberry Pi 5 offers dual 4Kp60 HDMI display outputs with HDR support, a microSD slot, two USB 3.0 ports, two USB 2.0 ports, gigabit ethernet, and a 5V DC power connection via USB-C. It's also equipped with Bluetooth 5.0 and Bluetooth Low Energy (LE) support, and it doubles peak SD card performance with the SDR104 high-speed mode. These enhancements make the Raspberry Pi 5 an even more versatile choice, whether you plan to use it as an ultra-budget desktop PC, a robust media server, or even a DIY security system.
The Raspberry Pi 5 offers multiple RAM options at launch, with the 4GB version priced at $60 and the 8GB version at $80. This places it slightly above the cost of the Raspberry Pi 4, which is available at $55 for the 4GB variant and $75 for the 8GB model. Excitingly, the Raspberry Pi 5 will be available for purchase before the end of October, promising an upgraded and accessible computing experience for enthusiasts and creators alike.